Each contains Kangen Water Machine 3 up to 7 high-grade plates of Titanium, coated with platinum. This Titanium / Platinum plates are of medical grade, making them particularly expensive and last a lifetime, if properly maintained. With this, the water is ionized, making it highly alkaline, high antioxidant, hexagonal and made with extra oxygen.
NB: The device is the only thing Kangen water ionization device that is medically certified!
The difference between 3 and 7 plates located in the power of the water:
The devices 7 plates will have a much higher antioxidant content, a higher oxygen level, a higher ORP (oxidation-reduction potential) have. In practice, this means that the effect of the water is much stronger, and the water is too much longer shelf life to bring, nl. up to 3 days. This makes it ideal to also agree with you when you go away for a long weekend or to give to someone to try it out. Also, when you boil water for cooking or tea / coffee making along with your food, holds it has a higher pH value. A practical difference is that devices have the big 'one voice', that any designation (pH value of the water, alerts the like. is for said and automatic cleaning) is shown.
When devices 3 Plates reduces the value already within a few hours at most a day shelf life, so they are particularly suitable for 'straight from the tap'. All values ​​are lower because the water only 3 platen is geïoniseerd. The small devices do not have a 'voice' and merely 'beeps' at certain warnings. Here the screen needs to be better monitored to read what's indicated.
Between the 2 small appliances there is even a difference and that is that the Leveluk R (The 'journey' model) has no possibility of producing water with pH 11,5 (strong alkaline - degreasing – anti-inflammatory) in pH 2,5 (strong acid - antibacterial)
We recommend that if anyone can afford, a Kangen device 7 plates is always to be preferred. It is, and for the health of the rest of your life are there to achieve faster / better effects.
However, if the budget is not sufficient, then you have the JR II still an excellent medical-grade water ionization device, despite a few limitations t.o.v. the large appliances.
Because the device comes directly from Germany, pay 19% instead of 21% BTW
filtration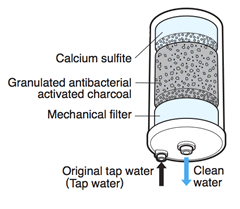 Did you know?
All steps of the manufacturing process are performed in the Enagic factory; production of parts and packaging to assembly, testing, inspection and final packaging. The complete in-house production ensures a high-quality product.